What's Happening at Gilliam Springs
GSBC men are invited to Old Brashier's Chapel Church for the Rise Up O Man of God Conference. The conference will be September 11th from 8 a.m.-12 p.m. It will include 3 sessions and breakfast will be served. If you would like to attend please sign-up through the link on the Church Life page on our
website or the church app.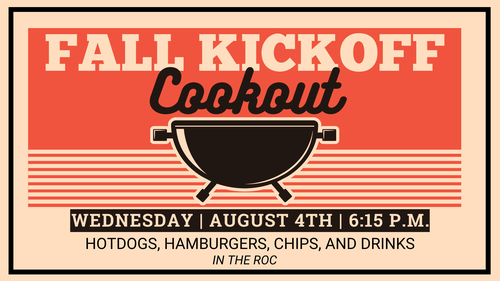 Back to School/Wednesday night kickoff event
Wednesday, August 4 in the ROC at 6:15 p.m.
Church will be providing hamburgers, hot dogs, chips, and drinks.
We have reserved a block of tickets for our church family the night of Friday, August 20. These will be sold first come, first serve until they sell out. Tickets are $19.58 each and each ticket includes $2.00 that you can redeem at a food concession stand or the Trash Pandas store. At the conclusion of the game that evening there will be a Fireworks Spectacular! To purchase your tickets, please email Spencer or call the church office. A link will be emailed to you where you can purchase your tickets. Since these are reserved seats, families desiring to sit together will need to have one person purchase the tickets for those families.
PURCHASE TICKETS BEGINNING MONDAY, JULY 26th.
Encore Connect Ministry's next Luncheon will be August 11th @ 11:30 a.m. in the ROC. The topic will be "GSBC Missions" with Jeremy Patterson, our Mission's Pastor, presenting. Register through the link below or sign-up at the Encore Connect table in the South Welcome Center.
Please contact Bob Hylton at bhylton@gilliamsprings.org if you have any questions.
We are so excited to announce a new ministry opportunity! Studies show that a visitor will decide within the first 7-10 minutes if they will return for a second visit. The FIRST IMPRESSION is very important, and we are looking for several volunteers to step up for this new opportunity. There are several areas of service where you can volunteer including greeters, parking lot, door openers, bulletin hand-outs, welcome desk, ushers and coffee.
Please sign up through the link below.